We offer in-house training for your business in the following areas:
User Experience Design (UX) & Design Thinking

Customer-centric Product Management
Depending on your business needs we can provide training that ranges from 90 minute workshops to 3-day courses. All of which are fully tailored to your needs.
UX Design course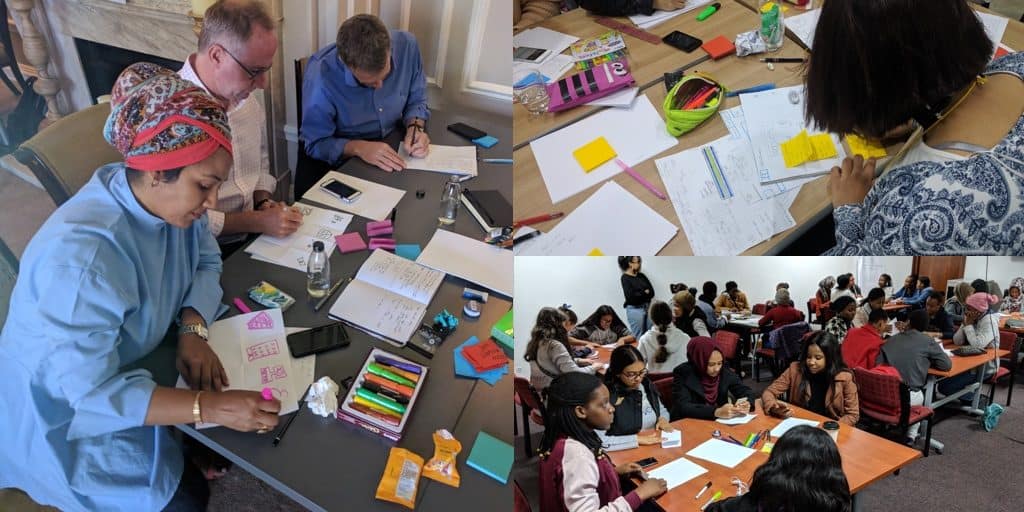 Want to make websites, apps, or software that people love to use?
The purpose of this course is to understand how to create great user experiences with Design Thinking and user-centred design.
On this course you will learn to
:
Understand target users' needs and behaviours in order to create the right experience for them.

Improve the usability of your interactive product or service

Create wireframe prototypes with which to run usability tests

Employ Design Thinking techniques to build a solid design process, resulting in happier customers and benefits your business
Practical work gives you the opportunity to try out every major step in the Design Thinking process. Exercises are based on preparing two interactive products in two teams. Each team designs a product, with members of the opposite team acting as usability test subjects.
Course modules
1. An introduction to User Experience and Design Thinking.
A powerful customer experience provides your business with a competitive advantage. Find out how good UX makes your business more money by acquiring more customers and keeping the ones you have happy.
What you'll learn:

The remarkable business benefits of a positive customer experience

What User Experience (UX), User-Centred Design (UCD), Design Thinking, and Lean are, and how they relate to one other.

The four principles and five core techniques of the Design Thinking process
2. Planning and managing usability in the product life cycle
To apply Design Thinking effectively, organisations may need to change the way they approach projects.
What you'll learn:

How to justify the value of UX and make it happen in your organisation

How Design Thinking, UX, and Agile methodologies like scrum fit together

How to fit UX processes into the constraints of smaller projects
3. Contextual research
Face to face contact with your customers is essential to designing a great customer experience. Observing and interviewing customer at the outset leads to better design and a smoother process for the project.
What you'll learn:

Why contextual research is the most critical component of Design Thinking.

Understand the full range of contextual research techniques,  from 'in-depth' down to 'budget'

How to run fun and effective contextual research sessions
4. Concept design
Using the right tools, you can generate new ideas in a non-judgmental space, which is more conducive to brainstorming.
What you'll learn:

How define foundations with affinity sorting, personas, scenarios and problem statements

Effective tips for enabling good ideas to arise during ideation exercises.

How to prioritise ideas and features to deliver the best user experience within the constraints of your business
5. Principles and patterns for usable interfaces
Top usability and interaction design patterns make your interfaces more effective and easier to use.
What you'll learn:

How human psychology affects the adoption, learning and use of interactive products

Useful design patterns to remember when creating web sites and web apps
6. Prototype design
Learn best practice techniques to create cost-effective prototypes.
What you'll learn:

How a 'prototyping culture' can allow project teams to create higher quality designs faster

How to choose between lo-fi prototypes and hi-fi prototypes

Quick and effective ways to develop interactive prototypes
7. Usability testing
Observing users as they try out your prototypes is the best way to improve usability.
What you'll learn:

Why rapid iteration is essential for providing ideal user experiences

The four key types of questions in usability testing and the top five do's and don'ts

How to find the right users, where to meet them and how to get the best findings out of them.
8. Next steps, books and blogs
We'll point you to the best UX design resources.
Product management course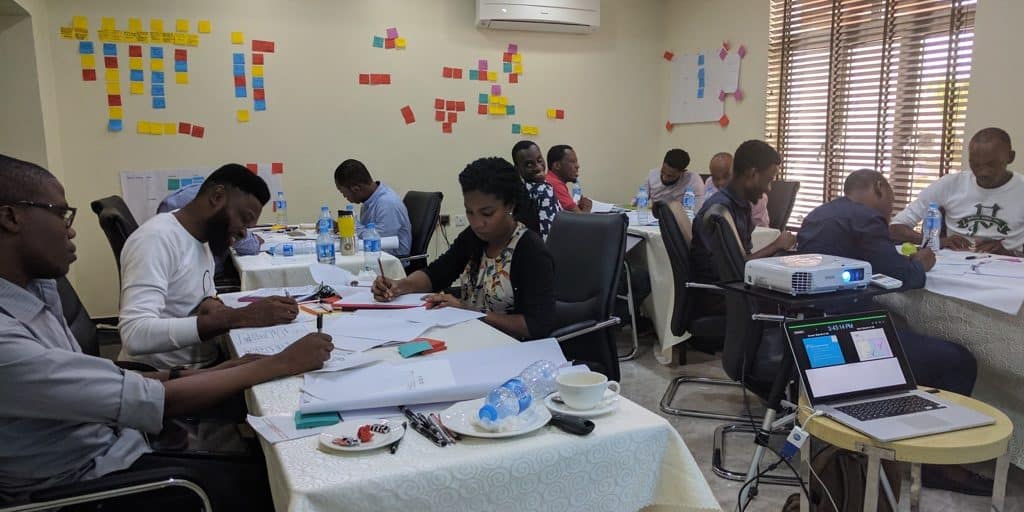 Digital product managers need to deliver measurable business results by producing products and services that meet market needs and company goals.
But how do we know that we're creating the right products and features at the right time for the right customers? And how do we persuade our organisation to design and build the right thing?
Learn how to master this balancing act.
Our two-day training course will give you a practical grounding in the art and science of customer-centric product management.  We strike a healthy balance between theory and hands-on experience. Each module concludes with a practical exercise.
On this course you will learn to:
Change the focus of your team's activities, based on the stage of your product's life cycle.

Understand and explore all the dimensions of your product idea using a product discovery canvas

Create a customer value proposition using the Design Thinking methodology and frameworks such as, Jobs-To-Be-Done and Value Proposition Design.

Define and scope an MVP and validate your product ideas with customer experiments before scaling them

Balance and prioritise demands from customers and stakeholders

Create a balanced release plan

Work optimally with your Agile delivery team

Define product metrics that drive continuous improvement
Course modules
1.  The Product Manager –  Why product managers are so important
This course is characterised by the a feet on the ground, head in the clouds approach, and always avoids 'design by committee'.
What you'll learn:

The product management lifecycle: Discovery, problem-solution fit, product-market fit, & scale

Product management in your organisation: Fit, funding and expectations

Product discovery

Gathering user needs through research

Mapping jobs-to-be-done, points of pain and areas of opportunity

Using a product discovery canvas to capture business, user and technical needs

Ideation techniques to create great customer value propositions

Making ideas tangible through storyboarding and sketching

Using prototyping, user testing and experiments to iterate and prove your ideas

Customer-centric product strategy

Crossing the chasm: How to enter the market, and gain market traction

Product-market fit: Profit models, pricing and bad revenue streams
2.  Product execution
What you'll learn:
Agile and Lean: A quick refresher
Defining MVP scope with story mapping
Prioritising features with impact mapping
Product backlogs, prioritisation and sizing
How to keep your developers in the Zone
QA, and managing UX debt
Release planning with the Kano model
Measurement and continuous improvement
If you would like to find out more about our courses, or how we can create a customised one for you, give us a call.