UX Audits
Best-practice feedback from experts 
Quickly find out if your site, app, or prototype follows global and local best practices.

Each page is reviewed and all issues are rated by severity. 

We use an extensive heuristic evaluation we have crafted over the years.

End off with a full report of our findings and 'quick-win' recommendations.
Are you are looking for a simple, cost-effective way to get feedback on your site or app without having to commit to a full usability test?  A UX audit will get you a quick idea of how your site or app feels to a UX expert. It's a great starting point for longer projects or a fast way to uncover common mistakes on smaller products.
Our process for assessing user experience design is exhaustive, scrutinising every facet of your product to identify potential issues.  
Our team, with a strong background in design, human behaviour, and design thinking, offer tailored solutions that enhance your product's user experience and align with your business objectives.
A UX audit, also known as a user experience audit, is an essential tool for boosting the performance of your website, app, or digital product. It entails a systematic assessment of your product, pinpointing areas that may be obstructing the user experience.  
By examining key elements such as value proposition, navigation, design, and content, a UX audit provides actionable recommendations and suggestions for improvement, including mockups of a page or two to help illustrate our suggestions. However, please note that we do not offer full prototyping and interface design. The ultimate aim is to enhance user satisfaction and engagement, creating a positive user experience that drives conversions and fosters long-term customer loyalty. 
UX evaluation is essential for understanding how users interact with your product and highlighting areas that need improvement. Regular UX evaluations can enhance product usability and functionality, leading to increased user satisfaction, higher conversion rates, and sustained business growth by getting your customers to take action
In our UX Audit we look at the following ares:
Value proposition, comprehension & trust
Will customers actually understand what you offer? How clear is your USP, and is there enough to keep a user there?
Navigation & feedback
Is your information structured in a way that a user knows where they are at any point and knows how to easily navigate to another area of your app?
Responsiveness
Is your product intuitive and responsive? Following known interface conventions across many different screen sizes to not punish a user for the device they have.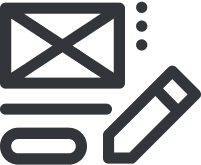 UI design
Is there good use of the Gestalt Principles in the visual design and does it tie in with the tone of the brand? 
Accessibility & inclusion
How well does your product follow international WCAG 2 accessibility guidelines?
Learnability & affordance
Does your design allow for cognitive biases and how well does it leverage behaviour change techniques to help users take action?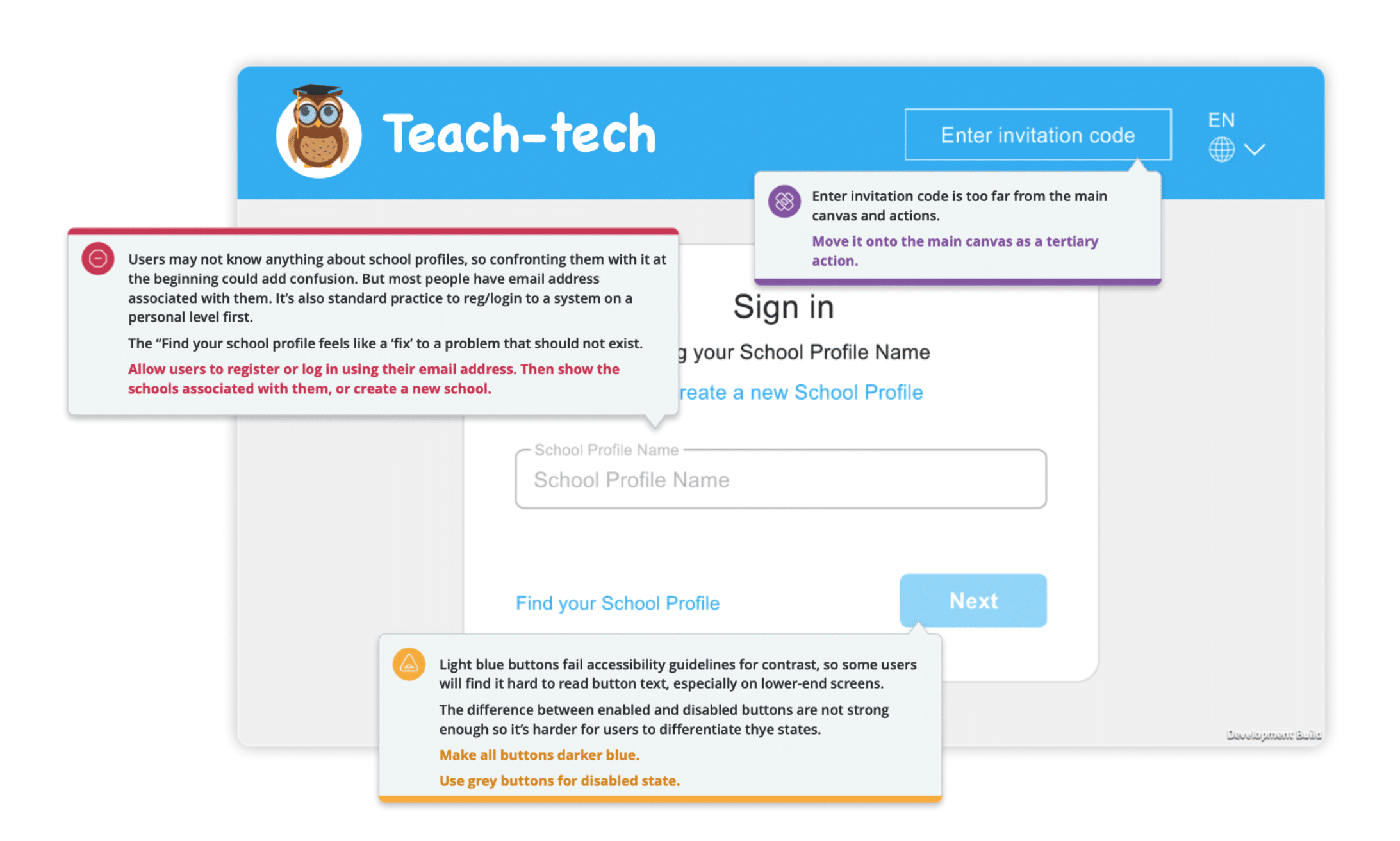 This is a 30 to 60 page PDF that contains key findings, Screenshots of each page of your app with highlighted issues, quick-win recommendations, as well as next-step recommendations. Each issue is measured and rated in terms of its overall impact to help you prioritise fixes.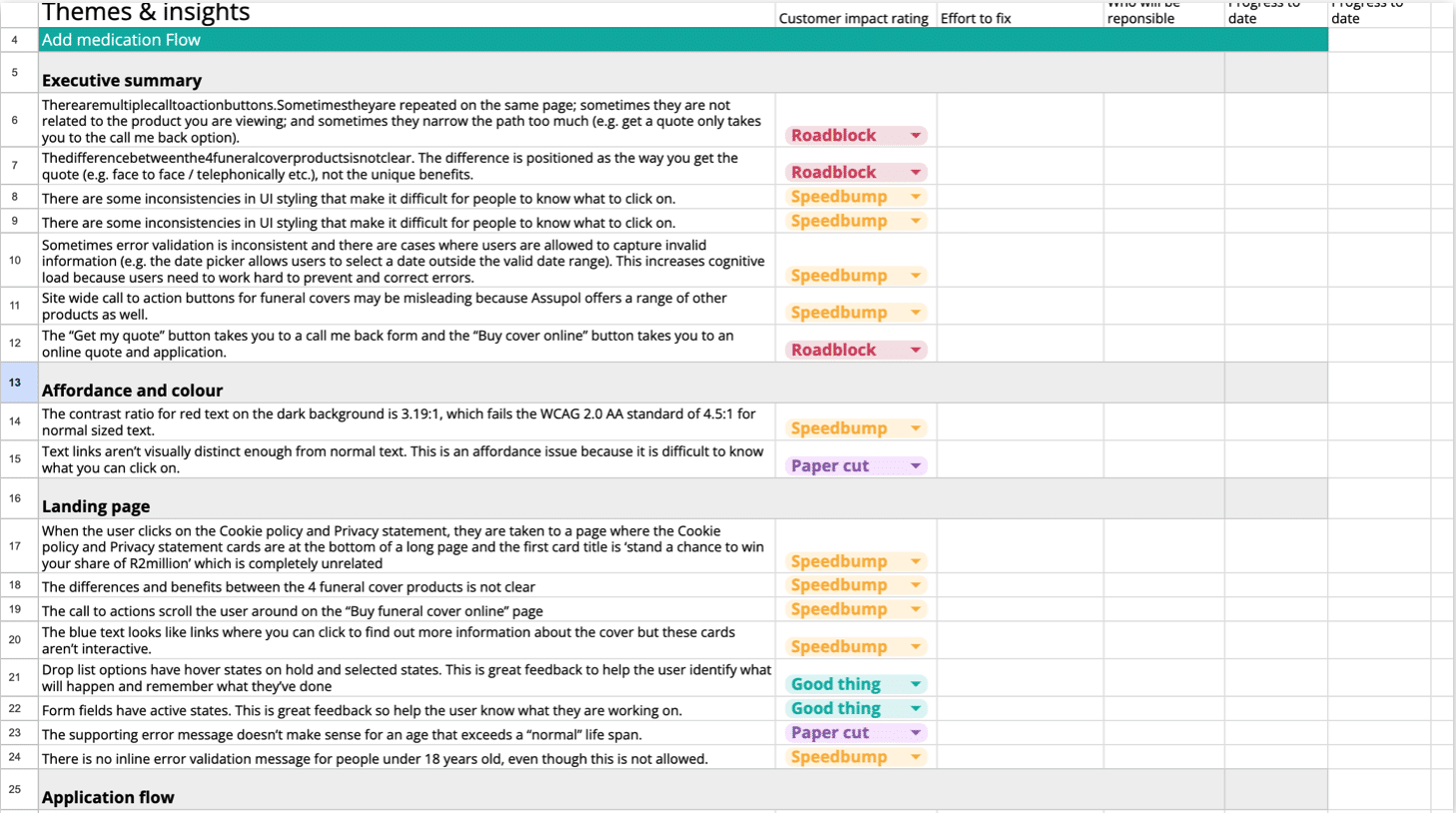 Summary list of all the recommendations as a Google sheet, for you to easily incorporate into your backlog.
We will present these findings to you in a 60-90 minute session with time at the end for questions and discussions.  
The entire UX Audit process takes a few days to complete, after which you can assess the recommendations and decide on the next steps. We strive to make all our research actionable, so if needed we can work with you to prioritise the recommendations, iterate on designs, or mentor your team. 
We can conduct a UX audit of 1 or 2 competitors for you to benchmark your experience against what else is in the market. This will help you identify what your competitors are doing well and where they are falling short. By understanding how your competitors are approaching UX, you can make informed decisions about how to differentiate your own product or service.
We will also provide recommendations on how to use your strengths and capitalize on opportunities where your competitors are less efficient. This will help you to create a unique value proposition that will set you apart from your competitors. The insights gained from a competitor analysis can provide a roadmap for future improvements to your product or service. 
Like the competitor analysis, a full accessibility audit is an optional add-on to the UX audit. We already include a light accessibility evaluation in the medium and full UX audit, but if needed, we are able to extend this to a comprehensive accessibility audit that includes screenreader compatibility, and more focus on Web Content Accessibility Guidelines (WCAG) 2.1. 
We will also evaluate the accessibility of your site's design and functionality, including its use of colour, typography, interactive elements, and alt tags.
Having an accessible site is not only important for customers with disabilities, but it also benefits all users and can improve your site's search engine optimisation (SEO). Our team of experts will provide you with a detailed report of our findings, including recommendations for how to improve your site's accessibility and ensure that it meets the needs of all users.
Our UX audit services offer a multitude of benefits for your business. By identifying and addressing issues that affect the user experience, we aid in boosting user engagement and conversions.  
A successful UX audit can result in enhanced user satisfaction, fostering enduring customer relationships that contribute to long-term business growth. With our extensive process, which includes creating a detailed UX audit report, we guarantee that your digital product will provide a seamless and enjoyable experience.  
This will resonate with your users, meeting their needs and expectations. Our website UX audit and UX design audit ensure that both the visual design and overall user experience of your website are top-notch, translating into increased user satisfaction and business success. 
Ready to enhance your digital product's user experience? Contact How Might We today to discuss how our expert UX audit services can help you achieve higher user satisfaction, increased conversions, and long-term business growth!  
Get quick feedback on your designs
using international best practises and our extensive experience
Contact us